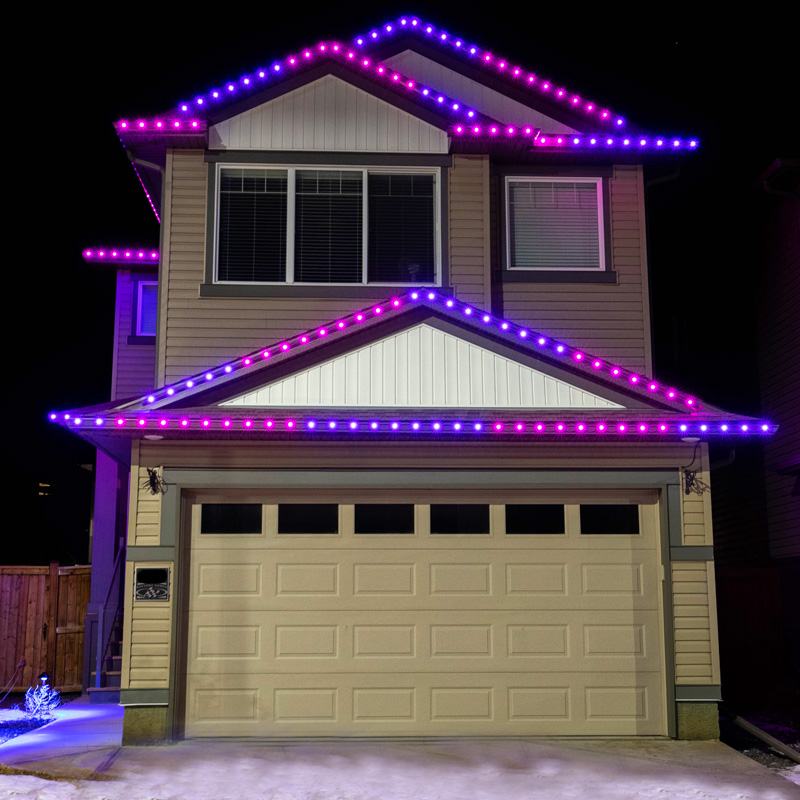 NO MORE LADDERS
One installation is all you need for beautiful outdoor lighting you can enjoy for years to come. No more fussing with ladders and tangled lights every holiday season!
WEATHERPROOF
Waterproof and built to handle even the coldest of winters, rest assured that your Pixel Lights will last season after season.
LIGHTS ALL YEAR ROUND
Any season, any reason! Hidden during the day but bright at night, decorate your house year-round with customizable and permanent lighting.
LOW VOLTAGE & ENERGY EFFICIENT
The most energy efficient permanent holiday lighting on the market, Pixel Lights use 24 volt, ultra-low-voltage to save power (and save money) while staying safe.
DESIGNED AND ENGINEERED IN NORTH AMERICA
FULLY CUSTOMIZABLE
From your phone or computer
Customize and control your outdoor lighting straight from your phone? Absolutely!
Pixel Lights connect to any PC, tablet, or mobile device using your WiFi network
Our controller app allows you to have full command over each colour-changing light
Create new patterns or download patterns from other Pixel Lights users!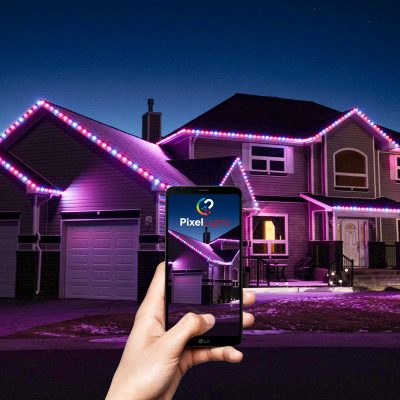 EASY TO INSTALL
Pixel Lights were made to be easy to install, whether you're a pro or trying your hand at DIY!
Download easy-to-follow guides and instructional videos to help install your new lights
Purchase a Starter Kit that comes ready with everything you will need to get started
Install channels for lighting that's hidden by day, but vibrant at night
Don't want to install Pixel Lights yourself? Contact us to help find the best contractors in your area
We're a company that's passionate about making your home more beautiful and your life a lot easier.
With a background in industrial and commercial LED lighting, we created Pixel Lights to fill the gap in the market for low profile yet stunning permanent holiday lighting. We knew that if we were looking for energy-efficient, fully customizable lighting that could be permanently installed, other people must be looking for it too. 
Designed and engineered in North America, Pixel Lights are smarter, brighter, and let's face it, a lot more fun than your average holiday lighting! We love seeing how happy customers are with their Pixel Lights.
"I can't believe how easy my Pixel Lights were to install and to program. I also can't believe I used to spend so many frustrating hours trying to hang up my Christmas lights every year! Never again."
"I love how I can change the colours and patterns of the lights whenever I feel like it, and that it's so easy to do so. I've never received so many compliments on my house before."
"Honestly? The time I can spend with my family over the holiday season instead of wasting a weekend on tangled lights and climbing on rooftops makes the purchase of Pixel Lights 100% worth it."
"The lights are hidden by day but have the perfect ambient glow at night, just what I was looking for. SO easy to program, and energy efficient, too. I'm in love."
CONTACT US FOR A FREE QUOTE!
Interested in what Pixel Lights can do for your home? Contact us today and we can answer any of your questions and provide a free quote.
Send us an email directly to info@pixellights.com and we'll get back to you as soon as possible.